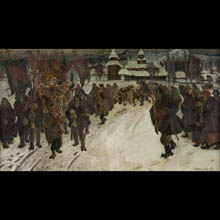 material:
oil on canvas
dimensions:
141x251
author's label:
Signed and dated lower right: F. Pautsch. Lwów. 907.
description:
The Hutsul region was an important theme in Fryderyk Pautsch's art. His paintings are obvious counterparts of Young Poland artists' fascination with the life of the common people, mostly peasants from around Krakow and highlanders from Podhale, in whom they saw the tribal force of the nation. The Hutsuls, who were Ruthenian highlanders from the Eastern Carpathian lands, were considered even more "primeval" and less "spoilt" by civilisation. Pautsch's Hutsul pieces differ remarkably from paintings by his colleagues associated with Włodzimierz Tetmajer and Bronowice. He carried out ethnographic studies of peasant clothes and customs, and stayed away from documentary realism, focusing rather on the mood and general expression of the scene. The Hutsul Funeral was Pautsch's first and most successful large-scale composition on a Hutsul subject. It is not only a universal tale of the man fighting against the forces of nature but also a symbolic portrait of the Hutsul people and their vivid, primitive lifestyle. The funeral processioners' brutalised faces looking like unreal, distorted masks may have been intended to emphasise those primeval qualities. Painted with broad brushstrokes, the canvas is superbly decorative. It was created in Lviv based on pencil sketches made a year before in the village of Przysłup on the River Lukva in the Carpathian region of Pocuttya. Displayed at exhibitions in Vienna , Venetia, Prague and Wrocław and in other places, it became the artist's signature piece. Światosław Lenartowicz
exposition:
The Gallery of 20th Century Polish Art,
The Main Building, 1, 3 Maja Av.